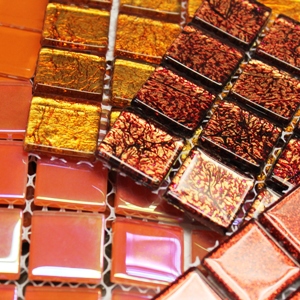 We have not had a chance to photograph all of the colour swatches so where a swatch doesn't appear visually, look at the opposite image for colour reference.

Pre-nipped chips are randomly cut tiles and are supplied in either 130g or kg bags. We have not had a chance to photograph the actual pre-nipped tiles so the swatch that you see in the image below is for colour reference only.

The Mixed Texture Bags are 130g in weight and are made up from glitter, plain glass, 10x10s, mirror and odd bits and pieces. No two bags are the same.

Curved glass shards suitable for creating 'movement' in your tile placement. Feel free to have a look at the 50x50mm Glass sheets under 'More Glass' if you'd like to get a better idea of the colour you're ordering. Each colour is sold individually in bags weighing 700g.